On 18 July 1940, HMAS Sydney captained by John Collins sailed from Alexandria in company with the destroyer HMS Havock bound for the Gulf of Athens. Together they had orders to support an allied flotilla consisting of HMS Hyperion, Hero, Hasty and Ilex in the Aegean Sea. They were to intercept any Italian shipping sailing east to west along the north coast of the island of Crete.
Collins, adjusted his course and speed so that he was better placed to provide support. In pre-radar days, dawn was often the most dangerous time of day and on 19 July this was to prove to be the case when at the western end of the sweep, they sighted two enemy Italian cruisers which soon opened fire. Collins, hundreds of miles closer than anyone realised, prepared his ship for action but maintained strict communications silence so as not to alert the enemy to his presence. At 08:20 the two Italian cruisers were sighted and with tension mounting, Sydney hoisted her battle ensigns and opened fire at a range of approximately ten miles. Both the enemy and the fleeing allied destroyers were taken by surprise at the sudden appearance of Sydney and before long hits were registered on one of the enemy cruisers, the Giovanni Delle Bande Nere.
By then all of the flotilla were in wireless contact with Sydney and the two groups joined forces north of Cape Spada , Crete . Sydney had scored hits on both enemy cruisers and it became apparent to Collins that they were attempting to retreat towards the Anti-Kythera Channel under cover of smoke. The enemy gunfire become sporadic at that point of the action and one of the cruisers, later identified as the Bartolomeo Colleoni, was seen to be on fire and losing headway, before coming to a complete stop.
Two of the allied destroyers, Hyperion and Ilex, were subsequently ordered to finish her off and pick up survivors. In all some 550 Italians, including her Captain, were rescued by the destroyers. During the action Sydney sustained just one hit to her forward funnel which caused only minor damage and no serious casualties.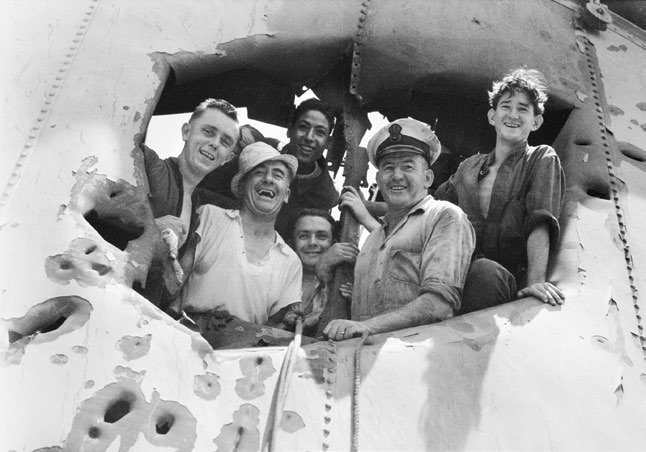 Left, the crew of HMAS Sydney commemorate their victory off Cape Spada, Crete demonstrating the size of the minor damage to the Sydney's forward funnels. (AWM 002435) and right Commemorative plaque presented to the crew of HMAS Sydney (AWM P08917.013)