Australia and Greece contributed 110 and 63 personnel to United Nations Peacekeeping Missions.
May | Anthropologist Dr Ian Frazer, along with 50 Australians and New Zealanders (Anzac Descendants) erected a memorial at the Tripiti Gorge in southern Crete, as a tribute to the Greek people and the Anzacs who managed to evade capture some two years after the Nazi occupation until rescue in 1943.
It is estimated between 1000 and 1500 Anzacs evaded the Nazis with the help of the Cretan people. Along with Dr Frazer and the Anzac families, private donors from the Greek Australian community have been instrumental in the creation of Tripiti Memorial.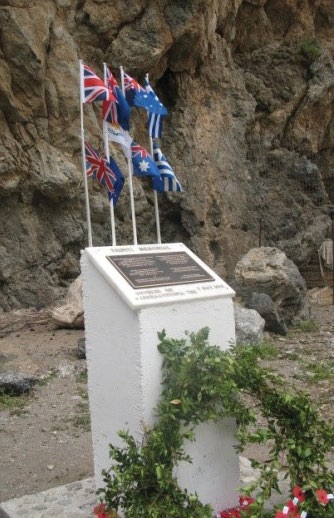 Tripiti Gorge Monument
June | Work by Keith Rossi, Victoria's RSL historian, Melbourne military historian Carl Johnson, amateur historian Maria Cameron and Newcastle schoolteacher Tom Tsamouras has provided enough evidence that there are approximately 20 Anzacs that are buried in unmarked graves near the town of Vevi in northern Greece. The Greek government announced it plans to fund a dig at a site near where the 20 Anzacs are believed to have been buried anonymously in 1941.
6 December | Dr Maria Hill and the Joint Committee for the Battle of Crete and the Greek Campaign convened an Academic symposium in honour of the 70th anniversary of the Greek and Crete campaigns in WWII. It was sponsored and held at the State Parliament of NSW exploring aspects of Australia's wartime relationship with Greece and its repercussions. The eminent speakers included Dr Ian Frazer  - author of On the run - Anzac Escape and Evasion in Enemy-occupied Crete ,Archaeologist Dr Michael Bendon who gave a presentation on the two landing craft wrecks at Phalasarna in western Crete, Dr Brian Taaffe talking about The Gate Keepers of Galatas, author and art historian Susanna De Vries who talked on the extraordinary life and refugee aid work of Joice Nan Kivell (1887-1982) and Professor Joy Damousi, gave the keynote speech "The Greek Civil War, the United Nations and Australia: an Untold History ".