The Greek RSL Sub Branch was formed in Castlereagh Street Sydney. It was officially chartered in 1950 and commemorates Greek and Australian servicemen and women and the battle in which they fought. The current president is Mr Bill Kotsovolos who was an Olympian representing Greece in the Melbourne Olympics of 1956.
 At least 625 Australians were killed along the Kokoda Trail in the second half of 1942 and over 1,600 were wounded. There were at least 193 Greek Australians who served in New Guinea in WWII, and a number of those served in the Kokoda campaign in October 1942. Near Eora Creek on the Track, two brothers of the Manusu family from NSW - Guy and Perry, who served in the 2/1st Battalion - were killed in action within days of each other (see graves below).
Victorian Jack Manol (Manolitsas) faced the full force of the first Japanese attack. Manol became part of Kokoda folklore, having been immortalised in a 1942 photograph (See Below) of Diggers, ankle deep in mud, climbing one of the track's steep jungle paths.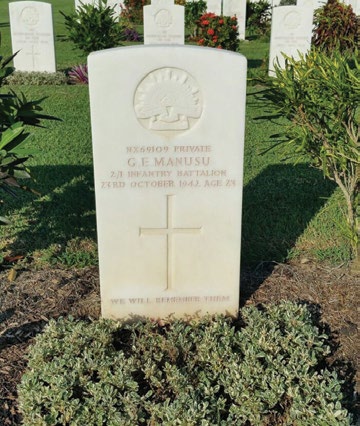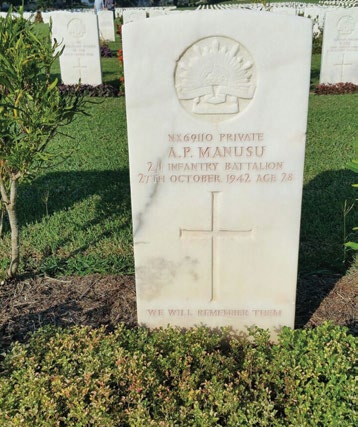 Left: Grave Guy Manusu, Kokoda Trail. Right: Grave Perry Manusu, Kokoda Trail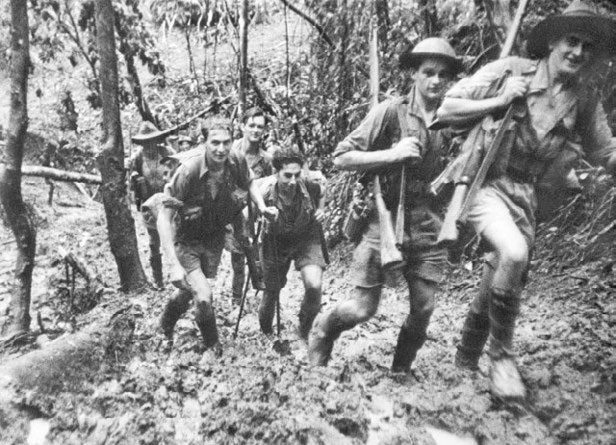 Members of D Company, 39th Battalion, on the Kokoda Trail. Right to left: Warrant Officer 2 R. Marsh, Private (Pte) G. Palmer, Pte J. Manol, Pte J. Tonkins, Pte A. Forrester and Gallipoli veteran Sergeant J. Long. Their shoes sink deep in the mud on the jungle track. (AWM 013288).