MACEDONIAN FRONT 1916 - 1918
The main Australian involvement with the Macedonian Front (1916-1918) revolved around the doctors, nurses and support staff of the various hospitals around central Macedonia. Between August 1917 and February 1919, three Australian Army Nursing Service units were posted to Macedonia, each of 90 nurses and one matron. The Principal Matron was Jessie McHardie White, based in Thessaloniki. The matrons were Beryl A. Campbell, Christense Sorensen and Grace Wilson.
There were also at least 87 servicemen with British and Irish units, as well as a number of individual volunteers. In all, almost 400 men and women born in Australia and New Zealand served along the Salonika Front.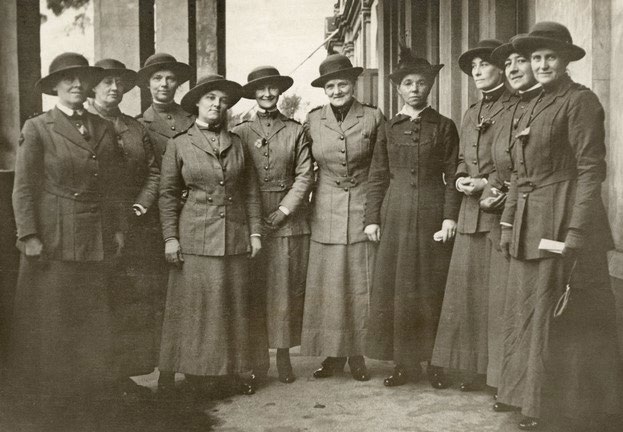 Left , Sergeant Olive May King . Right (AWM H16005) Australian Nurses A group of Australian Army nurses about to depart from Adelaide for Salonika, 14 June 1917. From the left: Miss Molly Wilson, Mrs J. Tyers, Miss Edith Horton, Miss Marion Geddes, Miss Laura Begley, Mrs Jessie McHardie White (Principal Matron), Mrs Forsyth (wife of General Forsyth), Miss Violet Mills (Matron of No 5 Australian General Hospital who was on a visit to Adelaide), Miss Alice Prichard and Miss Florence G. Gregson.
The Monastir Road Indian Cemetery and Memorial opened, comprised of two plots - the southern plot contains burials, and the northern plot, in which the remains of over 200 Indian servicemen were cremated in accordance with their faith. There are now 357 Indian servicemen of World War I buried or commemorated in the cemetery. The northern plot contains a memorial with panels bearing the names of those Indians who were cremated, and the names of over 160 Indian servicemen who died in Macedonia during World War One, whose graves could not be marked or moved.
March
The Kirechkoi-Hortakoi Military Cemetery opened. It remained a very small one until September 1917, when the 60th, 65th and 66th General Hospitals came to the neighbourhood. In June, July and September 1918, other hospitals were brought to the high and healthy country beside the Salonika-Hortakoi road and in September 1918, the influenza epidemic began which raged for three months and filled three-quarters of the cemetery. The last burial took place in January 1919, but in 1937, twelve graves were brought into the cemetery from Salonika Protestant Cemetery where their permanent maintenance could not be assured. The cemetery now contains 588 Commonwealth burials of World War One and 58 Bulgarian war graves.
2 May
Bacteriologist Dr Elsie Dalyell joined the Scottish Women's Hospital, Lake Ostrovo, remaining until 2-October. Born Newtown NSW, she enlisted with the Royal Army Medical Corps, serving in Thessaloniki. Early in 1919, she went to Constantinople to deal with cholera, and in June was appointed O.B.E.; she had been twice mentioned in dispatches
July
The Lahana Military Cemetery lies about 56 kilometres north-east of Thessaloniki. It was begun for burials from the 27th Casualty Clearing Station, to which sick and wounded men were brought from the Struma front. The cemetery was also used from June to August 1917 by the 18th Stationary Hospital. After the Armistice, 41 of the graves in Plots II and III were brought in from the two front line cemeteries at Paprat (about twelve kilometres north-west of Lahana) and from other small burial grounds. The cemetery now contains 279 Commonwealth burials of World War One. There are also sixteen Bulgarian and four Hellenic war graves.
1 August
Dr Lilian Violet Cooper joins the Scottish Womens' Hospital, Lake Ostrovo. Sister Alice Mary Stirling arrives the same day, serving as an Orderly until 1 January 1917. With them came Josephine Bedford (Mary Josephine Bedford), who volunteered as a Transport Officer. Dr Cooper and Bedford both departed the hospital on 1 September 1917.
4 August
Dr Agnes Bennett became the Chief Medical Officer of the Scottish Womens' Hospital, Lake Ostrovo, remaining until 1 September 1917. Born in Neutral Bay NSW, she was the first female commissioned officer in the British Army.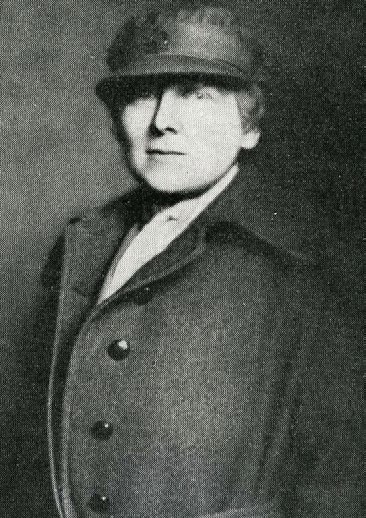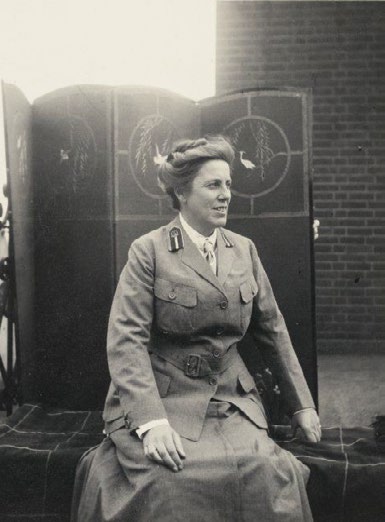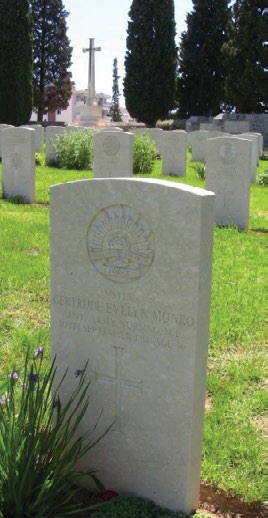 Left, Dr Elsie Dalyell, middle Dr Agnes Bennett and right Nurse Gertrude Munro grave stone, Mikra Cemetery, Thessaloniki.
September
Karasouli Military Cemetery is on the edge of the town of Polykastro (formerly Karasouli), some 73 kms from Thessaloniki and was a casualty clearing station on the Doiran front.
September
Originally called Kilo 71 Military Cemetery, the Struma Military Cemetery was opened for the 40th Casualty Clearing Station was established not far from the Thessaloniki-Serres road near the 71 Kilometre stone. It now contains 947 Commonwealth burials of World War One, 51 of them unidentified. There are also fifteen war graves of other nationalities.
December
Originally known as Colonial Hill Cemetery No.2, the Doiran Military Cemetery opened as a cemetery for the Doiran front, the western end of the Macedonian Front. The cemetery now contains 1,338 Commonwealth burials of World War One, 449 of them unidentified. There are also 45 Hellenic and one French war graves. The nearby landmark memorial was designed by Sir Robert Lorimer with sculpture by Walter Gilbert. It was unveiled by Sir George Macdonogh on 25 September 1926. The memorial serves the dual purpose of Battle Memorial of the British Salonika Force (for which a large sum of money was subscribed by the officers and men of that force), and place of commemoration for more than 2,000 Commonwealth servicemen who died in Macedonia and whose graves are not known.