4 April | The Second Contingent of Australian Army Nursing Service personnel, led by Matron Jessie Rose Gemmel, disembarked at Thessaloniki.
9th June, 1918 | Hector Vasyli, an eleven year old newspaper boy of Greek Cypriot descent was killed in a traffic accident during a welcome home parade in Brisbane. Vasyli did patriotic work for returned soldiers during the war, and gave gifts of cigarettes to them. He participated in many of the welcome home parades in the city.
A memorial plaque was erected on the Victoria Bridge by the Returned Sailors and Soldiers Imperial League (today known as RSL ) , Hellenic (Greek) Association and citizens of Brisbane. It was removed when the Victoria Bridge was demolished in 1966 but restored to its original spot on the southern arch of the Victoria Bridge in 1970 and still remains to this day.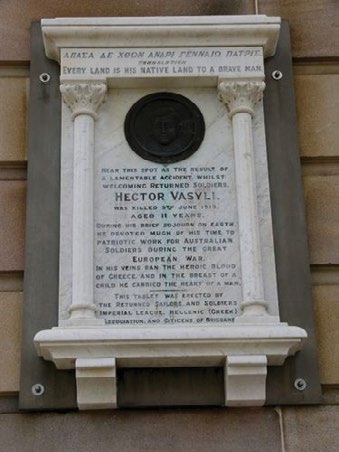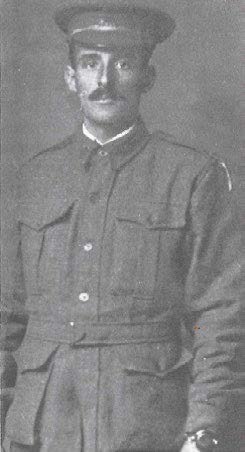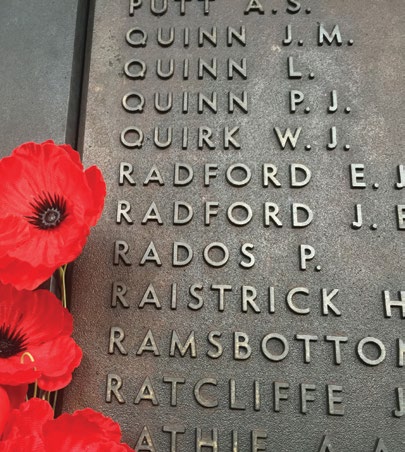 Left, Hector Vasyli memorial plaque, Brisbane. Middle , Sergeant Nicholas Rodakis MM,DSC(US) AIF , Right Gallipoli Anzac Peter Rados commemorated on the Roll of Honour at the Australian War Memorial
10 October
Pneumonia and malaria claimed the life of Sister Gertrude Evelyn Munro of the 43rd General Hospital, Thessaloniki, aged 36 years. She now lies in the Mikra Cemetery.
30th October, 1918
The Armistice with the Ottoman Empire was signed on the HMAS Agamemnon in Moudros Harbour, Lemnos. Dual ANZAC Constantine Aroney born on the island of Kythera in 1894 served Australia in both World Wars, in Gallipoli, the Western Front and in 1941 the Battle of Crete and The Greek Campaign. Other Greek Australian families such as Manusu, Aroney, Vafiopoulos, Procopis, Gunellas, Crocos, Jannese and Casos provided more than one member to the Australian Armed Forces. The Manusu family of regional NSW (originally from Lesvos island) contributed ten members to the South African Boer War and the two World Wars, of which four were killed. Sergeant Nicholas Rodakis MM, DSC (US), AIF who fought on the Western Front was born in Athens in 1880 and enlisted in the First AIF in February 1916. In the last year of the war he was attached to a United States army unit, and in September 1918, Rodakis' platoon was cut off behind enemy lines. As they fought to survive, Rodakis rescued an American officer in no-man's-land before capturing a German machine gun. He then defended his position for hours, before returning to the allied lines under cover of darkness, picking up wounded as he went. For his actions, Rodakis was awarded the United States Distinguished Service Cross - the American equivalent of the Victoria Cross. Rodakis was fortunate for he survived the war and returned to his wife in Warrnambool, Victoria in 1919.