THE JOINT COMMITTEE FOR THE COMMEMORATION OF THE ANNIVERSARY OF THE BATTLE FOR CRETE AND THE GREEK CAMPAIGN
The Joint Committee was formed in the late 1970s by the Cretan Association of Sydney & NSW, the 2/3rd Field Regiment, the 6th Australian Division represented by
Major General Sir Ivan Dougherty, Major General Ian Campbell, Major General Allan Murchison , Steve MacDougal, Bill Jenkins and Lew Lind. Its aim was to commemorate
the Australian campaigns that were fought on the Greek mainland and later on Crete and to honour the Australian soldiers and their Greek allies by keeping their memory alive.

For over 30 years this committee has been hosting a ceremony on the anniversary of these campaigns, held at Martin Place, Sydney, on or around 20th May. 
More about the Joint Committee...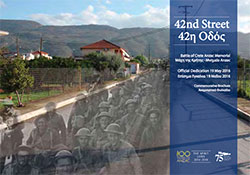 The 42nd Street Anzac Memorial Official Commemorative Brochure (PDF)